John Munnelly trained, experienced & certified music producer
Whats the storee Bud? Hows it that you can do all that knob twiddling in th studio – well lets start at the beginning.
[Story: this is about John's adventure in becoming an audio and studio guy.]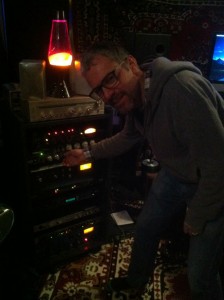 I am playing with tape recorders since I was kid. My dad was a National School Teacher NT in Tierlahood NS in Stradone Co. Cavan. And way back then he had a tape recorder and then he had a reel to reel tape recorder as well with a tiny wee mic and a round plastic stand. I was fascinated by that and would just mess around with it all the day if I could.
We often sat around messing about with the tape recorder. My Mothers mother was a 'seanachie' – that is a story teller and we would try to slyly capture her telling stories on tape – I wonder where all those tapes are now?
Then we used the tape and the mic on the big reel to reel to capture Daddy playing his shiny blue accordion in the front room in Drumnavanagh, Cavan Town. That is where we lived. Later when the  market was in town I might get a tape recorder or mic there and use whatever was available to make recordings.
I used to make my own tapes of stuff. Then I helped make some sound effects for my friend John Walsh's play we sat on the floor of Paul Cox's flat and made whooshing noises to create wind. Yeah right! wind.  So the basic message is I am capturing and playing with sounds a long time.
MY first taste of the big stuff was recording the vocals for a demo for a local soon-to-be-slightly famous band – "the would be's" in Sun Studios, a cool cool studio in Central Bar at the time – I loved that. I made several demos there with my brother Alan pitching in on massive guitar and bass (attaboy!)  – one of them my song Treasure was well received in Dublin and was a winner in the Grolsch Hot Press Awards. I recall moving the sliders (faders)  on the big desk ( SSL) at a certain point during the mixdown and it gave it just the right kick and lift. I was hooked. I wanted to know how this stuff worked!! I was always asking questions and trying to understand the audio engineering concepts and where the signals were being routed to and what was happening to the sound along the way with all the wires.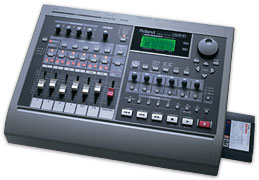 I continued to grow using a DAW a digital Audio Workstation – Roland VS840 EX  and I learned a lot from that even though my other ancillary equipment was quite rudimentary. I hadn't fully grasped the joys of outboard equipment, phantom powered condenser mics and cool pre's – Pre Amps – yum!
I continued to grow in experimentation and learn and make demos on 4 and 8 tracks tapes and digitally.
I then learnt Cubase and hooked up the DAW to the computer via a midi box (Midisport 4by4) a DR drum machine, Keyboard and became a master of MIDI synchronizing and getting everything to start 'just so' with a flick of a foot switch. I loved that. So I could be ready plectrum in hand and not have to lean away and press the record button and THEN get back into position near mic etc.
Fantastic – I loved recording. I helped some lads in college to do their projects and they helped me out with reading my dots. I was very practical and technically gifted but a little less fluent in reading staves and so on in music notation.
While in Music college I also took extra and completely separate education to my main qualification in audio engineering. It is equivalent to a City and Guilds qualification (NCFE in Studio Engineering) This course covered everything from soup to nuts that we would need to run and operate a recording studio and we had a lot of hands on time with the tutors who were experts in their field. There was a massive drop out rate cause it was more work and difficult to grasp for the non musical or gifted so we had a lot of 1:1 attention and equipment handling. We used the early samplers using floppy discs – that was a howl making mad loops and then mapping them on the keyboard. We used and were taught every type of tool from the small portable 4 track to the large live and recording desks.
So I grew into a fan of Reason and composed some cool dancey type music on that my favorite being – Indie Gestation which I use for my TV theme.
INSERT LINK to Theme
I continued to write and record at home also and gradually became more and more competent and invested in better outboard gear and learned to use compressors, EQ etc to better effect. Here is a sample of a song I did in my home studio about that time – Greedy Guts.
INSERT LINK to Greedy Guts
When I moved to USA permanently I had a lot of experience in audio, live music and theory of music and went about learning the tools of the trade here in New York. I studied ProTools with Berklee online college a university level qualification with amazing tutors and structured courses. These courses area  little expensive but worth it.  I also studied Reason with Berklee and am certified user. After I tired of wrestling with my audio and MIDI chain on a PC I switched to the Apple product Logic Audio and took a professional level course again with the best available Berklee and had hands on training on a Pro Studio with ProEngineer Peter Litvin and of course always practiced and made my own progress by experimenting and practice and production.
I also have worked on live sound as part of a band as as part of a club mixing live bands in Brooklyn club in Willimasburg for a short time. It requires some nerves in case anything goes wrong all eyes turn towards the sound guy and say silently but loudly – whats that noise!
I applied my self and continued to use recording studios to record my own material, ask questions about techniques and even help advise with my tech knowledge. I continued to experiment at my office studio and was taken under the wing of Revolution Studios and trained further in the Audio Arts by Peter Litvin a long term engineer and producer in many genres.
Studio Link:
So Now I am available for your professional recording projects please contact me and ask for a rate or any question you may have. If I have to say a preference I would like to do organic material with an edge.
Of course being around music all my life is another part of the picture, being in bands, helping other bands, being a roadie, playing through amps, mooching around guitar and music shops, reading magazines, researching equipment, my qualifications in technology, a giftedness in IT tech, wiring and back end computing and being a songwriter and artist myself is is all a great 360 experience in music that rounds out the package so I am listening for a great song or piece of music and that is what I aaim for – something that moves me you su the wprld in some way even if its just to make a toe tap and a head nod.