Myself and Arlo Guthrie recognized at 14th Annual ASCAP Foundation Awards in New York City.

At the ASCAP Award Ceremony my co writer (Christina Lord) and I received the prestigious ASCAP Jay Gorney Award for A song with a Social Conscience – 'The Unemployment Blues'
The ASCAP Foundation Awards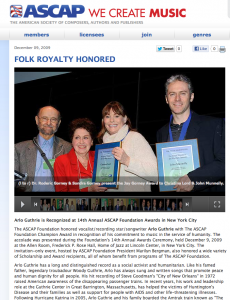 The ASCAP Foundation honored vocalist/recording star/songwriter Arlo Guthrie with The ASCAP Foundation Champion Award in recognition of his commitment to music in the service of humanity. The accolade was presented during the Foundation's 14th Annual Awards Ceremony, held December 9, 2009 at the Allen Room, Frederick P. Rose Hall, Home of Jazz at Lincoln Center, in New York City. The invitation-only event, hosted by ASCAP Foundation President Marilyn Bergman, also honored a wide variety of Scholarship and Award recipients, all of whom benefit from programs of The ASCAP Foundation.
http://www.ascap.com/playback/2009/12/ACTION/FOLK_ROYALTY_HONORED.aspx
SongHall November New Writers Showcase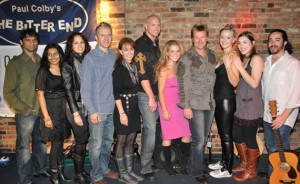 On Thursday, November 12th, the SongHall presented the latest New Writers Showcase, featuring eight talented member-writers. The evening was full of wonderful music, performed by the writers themselves to a packed house at the Bitter End.
http://www.songhall.org/news/entry/songhall_november_new_writers_showcase