SINGLES:
2017: Expanding Universe 'XU' limited Edition CD, Numbered Artworks (each different) And inside Fanzine Style Poster & Lyrics sheet.
2014-16 Brooklyn, Nowhere Without You, King of Cambridge,
Bum Song Re-Release
2013 – HELLO WORLD -
AMAZON – http://amzn.to/135tDoC
iTunes – https://itunes.apple.com/us/album/hello-world/id662903275
Antigua by LaughJohnLaugh
Release Date: 10-Jul-2012 Label: LaughJohnLaugh
ISRC#: QMSZB1200004
UPC:859708566864
Primary Genre: Pop
Secondary Genre: Singer/Songwriter
Language: English
ANTIGUA on iTunes
Does my BUM look Big in this? by LaughJohnLaugh!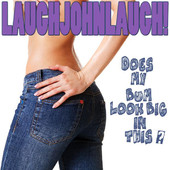 Release Date: 31-Jan-2012
Label:LaughJohnLaugh
ISRC#: QMSZB1200001
UPC: 859705796493
Primary Genre: Dance
Trapattoni's Men by LaughJohnLaugh
Trapattoni's Men – Ooh Aaah
Release Date:
07-Jun-2012
Label: LaughJohnLaugh
ISRC# QMSZB1200003
UPC: 859708390346
Primary Genre: Comedy