Book a Band for your party in NYC, NJ and CT
We are a gigging band in NYC area – we play regularly in Brooklyn Queens and City and are available for paid shows at any envelope opening within reasonable distance.
BOOK US – contact form (mention 'book band' in subject line please)
We can play for several hours specializing in a Folk pop sound with some Irish and original tunes. We are up to date on one level like Gotye/Foster the People/Frankies Gun crossed with 60′s soul-folk.
Think contemporary folk in vein of Falling Slowly cross-eyed with the Mamas and Papas – a sort of spruced up smart alecky acoustic 1960′s thing I suppose might get close to it. We play the sung and updated version of Irish music not so much the fiddle heavy jigs n reels.
INSTRUMENTATION and band personnel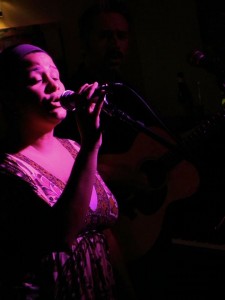 We are all professional players or singers hand picked to be amazing. One of my human gifts is knowing talent when I see hear or meet it.And these players are all the real deal.
Instrumentation- Male and Female vocals, Acoustic Guitars, Stand Up Bass, Drums Percussion,
(with Electric Guitar, Mandolin and Banjo on demand.)
Members: John Munnelly, Genna Johnson, Kevin Reilly, Andy Weintraub
Other members: Elizabeth Jordan, Joshua Pyram.
LaughJohnLaugh Band Sample Set List: (2 -3 hours )
Originals:
We should go Blind
People die
legends
unemployment blues
Alien
Nowhere without you
cubicle
liar liar
bum song
Folk Set:
the weight
change is going to come
sound of silence
Whole of the moon
All the leaves are brown
Falling Slowly – once
Expanding universe
strawberry fields
peace
angels tears
Pop:
boots are made for walking
Galway Girl
A pair of brown eyes
Moondance
he used to love me
Jolene
foster the people – pumped up kicks
U2 one
Frankie's gun
mad world
500 miles
redemption songs
Irish Celtic/Americana:
raglan road
she moves through the fair
a pair of brown eyes
the island by Paul Brady
the wind that shakes the barley
Man of constant sorrow Caledonia
This is just a sample list as we are always adjusting the set for newness and fun.